CUET Mock Test 2023 (Test Series With PDF)
Common University Entrance Test (CUET), earlier known as Central Universities Common Entrance Test (CUCET), is the gateway to the top universities in India. No wonder the competition is getting fiercer every year, and candidates need to ramp up their preparation.
If you are aiming to compete this exam, go for the online CUET mock test 2023 to improve your chances of success. Prepguru's CUET test series is designed by subject experts keeping your learning goals, requirements, and expectations in mind. 
Our team of experts has crafted questions that cover the main exam's current format and difficulty level. Practising through our CUET mock test 2023 will give the necessary boost to your performance. It is a great way to strategise efficiently and enhance your accuracy and speed, which are the most crucial factor to getting through any exam. 
So, take our CUET online test series and keep your knowledge up to date.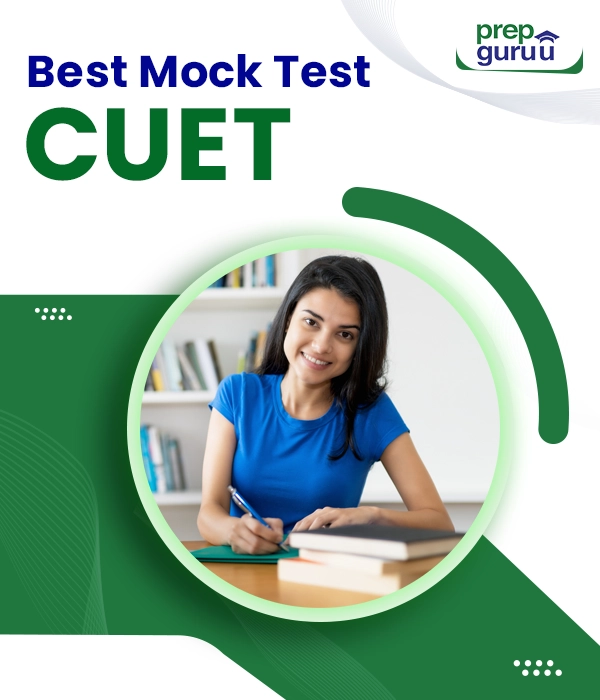 Why Our CUET Mock Test is Best Choice for Your Exam Preparation?
We are your ulimate destination for CUET exam preparation online.
What is CUET?
Common University Entrance Test (CUET) is a national-level entrance exam to get admission to various undergraduate, postgraduate, research, diploma, and certification courses. It is conducted by National Testing Agency (NTA) to provide equal opportunity to students to seek admission to participating universities. The exam syllabus and pattern are straightforward, but to improve your chances of success and scores, we recommend going for our CUET mock test NTA, as it makes you familiar with the structure and other aspects of the exam.
Why should I give CUET mock test 2023?
Mentors and top rankers encourage candidates to attempt CUET online test series and give multiple tests before appearing for the main exam. The motive is not to achieve excellent marks on the test but to study the format and patterns, get familiar with the types of questions, get comfortable with speed and accuracy, and build confidence. You gain an understanding of the CUET exam structure and realise your strengths and weaknesses. Also, mock tests allow you to build section-wise strategies and enhance your problem-solving skills.
Does the CUET Exam have long-answer-type questions?
No, the CUET exam consists of multiple-choice questions (MCQs). To get familiar with the format and get better insights, join our CUET mock test online series, where you can attempt multiple tests and evaluate your performance.
Why should I choose Prep Guruu for CUET mock test series?
Despite having an array of options, candidates rely on our online mock test for CUET because of our authenticity and quality. Our subject experts have selected each question after thorough research and consideration to ensure they include the most important and relevant topics. Moreover, we have covered all key topics and different difficulty levels in our test series. We have also included questions from previous years, so you don't have to solve them separately. Our CUET test series will enable you to assess your speed, performance, accuracy, and progress.
What is included in the CUET mock test series?
Our mock test for CUET exam 2023 includes multiple practice tests that mimic the actual exam in terms of format, content, and difficulty level. Each test is designed to help you get a better understanding of the exam and improve your test-taking skills.
Can I access the mock tests from any device?
Yes, our CUET mock tests are available online and can be accessed from any device with an internet connection. This means you can practice from the comfort of your home or on the go, whenever and wherever it's convenient for you.
Are the answers to the mock tests available for review?
Yes, you will have access to detailed solutions for each question on the mock tests. This helps you understand the reasoning behind each answer and improve your overall knowledge and exam preparation.
Get Ahead of the Competition with Our Strategic

CUET Mock Test 2023!
CUET is an all-India level exam conducted by NTA for admission to various UG, PG, research, diploma, and certification courses. It is conducted across 120 cities, and candidates get only one chance a year to appear for the exam. So, you can't take this opportunity for granted and have to give your best shot to score top ranks and get admission to the most prestigious colleges.
To help you achieve your academic dream, Prep Guruu offers online CUET mock test with PDF based on pattern by NTA. Our tests are based on the latest exam pattern and syllabus, so you get a fair understanding of the format. This enhances your CUET exam preparation and brings you closer to your academic goals. So, wait no more and get your CUET test series now!